Melbourne Weather In July

Melbourne's Winter Wonderland!
Custom Search
You are here: Home | Melbourne Weather | Melbourne Weather In July
July is the second wettest month of the year with an average rainfall of 47.9mm and approximately half of the days of the month wet, windy and cold.
The sun sneaks out on average for a full 3.5hrs during the day doing its best to dry up some of the wet.
The weather in the month of July is cold, very cold... brrr makes me shiver just thinking about it!
The Average Temperatures for the weather in July are:
High 13.4°Celsius(56.12°F) – Low 5.9°Celsius(42.62°F)


There is a smokey haze over the city, the open fires are burning busily and the smells of sizzling sausages lingers in the air as families take to the hills on a weekend to enjoy the brisk mountain air.


Click any large image to view this Page's Gallery

Cold - Wet- Windy-Melbourne City Streets In Winter
A favorite pastime during winter's Melbourne weather in July is a daytrip up into the Dandenongs to feed the beautiful Australian native birds.


Feeding A Rosella In The Dandenongs - Melbourne - Australia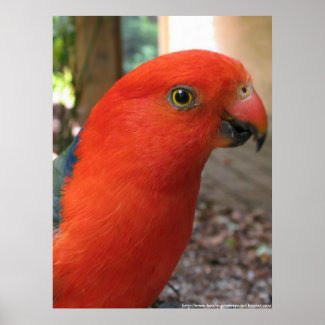 King Parrot - Australian Native Bird Series Poster
The King Parrot is an Australian Native bird found in humid and heavily forested upland regions of the eastern portion of the continent, including eucalyptus wooded areas in and directly adjacent to subtropical and temperate rainforest.
This poster forms part of the Australian Native Bird Series that I am putting together.
Why not gather the series as they would make for beautiful gifts or framed as part of your home or office decor.
The Melbourne Ski Season is in full swing with the alps covered with snow.
The Melbourne weather in July is perfect for excellent snow falls in the high mountain ranges and they are all well within a few hours drive from central Melbourne.
If you are into snow skiing etc then head on up to Mt Buller or Mt Buffalow only several hours from Melbourne central.


Snow On Mt Buller-Victorian Alps
If you just want a fun day trip up to the snow to give the children a taste of the fluffy, white stuff then a drive to Mount Baw Baw is an easy trip for you all.
The weather can be quite dramatic at times with blustery cold winds, heavy driven rain with thunder and lightening.
Make sure you rug up well and invest in a strong umbrella.


Storm Chasing - Diggers Rest - Thanks Steve!
Don't Let The Melbourne Weather In July
Stop You From Enjoying Yourselves!

Melbourne city itself has plenty to show with the Parks and Gardends bursting forth with Winter blooms.
The Royal Botanical Gardens are beautiful on a clear day with the weather not hot and the crowds not too large.
An excellent time to visit the zoo is in July for exactly the same reason.
The Melbourne weather in July, although cold, can be delightful to enjoy outside with the right weather conditions.
The Docklands puts on a display of Fireworks during the month of July to liven up the winter blues.
Watch this spectacular fireworks show every Friday night in July.
Five uniquely themed fireworks displays complimented by music themes (rock, pop, jazz, soul and classical) launch from Victoria Harbour.
Quite a celebration down at the Docklands in Winter so don't miss out.


And of course all along the coastline the Melbourne weather in July produces the most dramatic conditions for sightseeing.


Cape Otway Lighthouse -Victoria- Australia
The Great Ocean Road is perfect for sight seeing with the wintry southern winds belting the dramatic coastline.
For example the Cape Otway Lightstation is the oldest, surving lighthouse on mainland Australia.
Long stretches of deserted ocean beaches offer spectacular areas to wander for hours on end, even fossiking at the base of the cliffs for semi precious stones, sea glass and aboriginal artefacts.


You may like to settle back, relax and allow my Tour Partner Viator to show you some of the attractions that Melbourne has on offer.


Viator, my travel affiliate partner, offers the most amazing touring experiences, professional service and an all round great way to see the sights of Melbourne and the surrounding countryside.


Down along the Mornington Peninsular is the perfect place to visit with the family during July with the crowds at their lowest.
The beaches are excellent for family picnics and generally beachcombing.
There are excellent attractions such as...
The Enchanted Maze Garden at Arthurs seat
The Boneo Maze and Wetlands Centre
Ashcombe Maze at Shoreham
Moonlit Sanctuary Pearcedale
Coollart Wetlands at Somers
McCrae Homestead at McCrea


Wintry Day At Flinders On The Western Port Bay
What's The Wether Like In Melbourne In Some Other Months?

What's the Weather like in February in Melbourne?
When does Winter begin in Melbourne?
Return to the Monthly Melbourne Weather
Please note that some links on this page are to companies that I have an affiliation with. By that I mean that if you purchase a product through them I receive a very small commission. This way of earning income is termed Monetization and it is a way for me to keep my site out here for you to enjoy. I will only affiliate with companies that I feel offer value for money and excellent back up service. These are Companies that I personally have used to purchase products for myself, my family and my friends. To learn more please refer to my Disclaimer page
Come Check Out Family Getaways On Pinterest 

Click 'Follow on Pinterest'
---
DISCLAIMER: Family Getaways Melbourne makes no claim as to the accuracy of this information and takes no responsibility for incorrect or incomplete information or for actions based on the information in these pages, and accepts no liability to any person or organization for the information contained in these pages.