There are only a few real islands and these are mainly sandy, muddy banks and shallows, most of these are situated on the western side around and in the marshy shallows of Swan Bay.
Almost half the bay is less than 8 meters deep with the greatest depth being 24 meters.


If you love Lighthouses then you will not be disappointed for this Bay has some really great examples.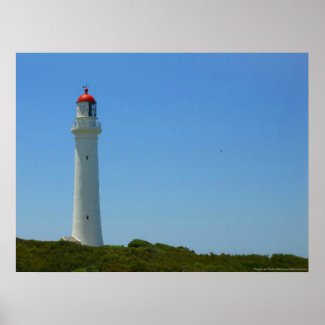 The Port Phillip Bay is fringed with lighthouses built for ships to safely navigate the quite trecherous waters and coastline.
The Split Point Lighthouse is a lighthouse located in Aireys Inlet, a small town on the Great Ocean Road, Victoria, Australia.
Originally called Eagles Nest Point, the lighthouse was constructed in 1891.
Shipwrecks In The Bay


If you are into exploring shipwrecks you will not be disappointed. Dive or snorkel around these wrecks where you will find some amazing marine life.
Some of the more significant and historical shipwrecks in the bay include...

Mountain Maid - sunk off Swan Island after a collision with the SS Queen (1856)
Wauchope - sunk off the coast of Sorrento (1918)
Ozone - scuttled off Indented Head (1925)
HMVS Cerberus - scuttled in Half Moon Bay, Black Rock (1926)
HMAS J3 - scuttled in Swan Bay (1926)
HMAS J7 - scuttled off Hampton Beach (1926)


By Ways (Own work) [CC BY 3.0], via Wikimedia Commons

Port Phillip Bay has grown to become Australia's busiest Commercial Port. Huge amounts of imports and exports move throughout the bay daily.
Transportation of dry bulk, oil, natural gas, steel, oil products, wool and live stock etc makes this a very busy stretch of water.


Container ship leaves Melbourne Docklands in Victoria, Australia compliments of https://flic.kr/p/aSjcir

Plenty of large ocean liners visit bringing tourist and immigrants alike.
2014 saw my granddaughter and I cruising on the Dawn Princess out through the Port Phillip Bay heads and over to New Zealand. Seeing the bay from this vantage point is truly amazing. What an exciting cruise that was! The following year we cruised to New Zealand on the Golden Princess - wonderful time!


Queen Elizabeth ocean liner at Station Pier Melbourne Australia compliments of http://www.flickr.com/photos/docklander/5485637062/

Locals and Tourist can enjoy trips around, across and along the bay with Ferries shuttling to and fro.
The Searoad Ferry travels across the mouth of the bay each hour between Sorrento on the eastern shore to Queenscliff on the western shore.
You can drive your car onto the ferry for a nominal price, cheaper these days than petrol to drive all the way around the bay and of course far more convenient once on the other side.



Ferries also run from St Kilda to Williamstown across Hobsons Bay.
There are also lots of recreational cruises that depart from various locations around the bay. A short cruise up the Yarra River to the river's mouth makes for an interesting day out and this can be done from Southbank in the central business district of the city.

The ultimate Ferry Cruise, more like a small ocean liner, is travelling on the Spirit of Tasmania. This passenger and car ferry transports you through the bay, out through the Heads and into the open ocean of Bass Strait. You travel in comfort all the way down and across to Australia's beautiful state of Tasmania.
If you get the chance do visit this magnificent part of Australia. Tasmania is packed full of early Australian history, the most incredible scenery and the friendliest of people. Oh and by the way, the beaches are glorious too.



There are plenty of Lifesaving Clubs around the bay to help keep swimmer safe.
They are manned by volunteer lifesaving services and usually operate during the weekends, public holidays and during the busy summer months some are manned during the week.
For a full list of the Port Phillip Bay Lifesaving Clubs just visit this website, The Victorian Lifesaving Association ( http://www.lifesavingvictoria.com.au/www/html/1401-life-saving-clubs.asp )

And when swimming in the bay always remember swim between the flags.
Because of the temperate water, the Bay is a favourite destination for scuba diving.
You can dive from the many piers scattered around the bay or from boats out on the water, whichever way you can be assured some great finds.


Scuba diving in Port Phillip Bay Victoria Australia compliments of http://www.flickr.com/photos/tobyprosser/4303607028/

There are lots of different diving environments including ...
Wrecks
Reefs
Drift Dives
Scallop Dives
Wall Dives
In, on and around the 1,950 square kilometres of the bay the fishing is great. Be aware of fishing rules and licenses and always be ready to catch the unexpected.



There are lots of recreational activities to enjoy at any of the Port Phillip Bay beaches. A family Picnic on the foreshore with plenty of free to use electric BBQ's and playgrounds for the kids to keep themselves amused.
What better way to enjoy the sun and nature's water playground than at one of Port Phillip Bay's beautiful beaches. Grab all the picnic Gear, the kids and the car keys and head on down to the beach and remember to keep safe.
Enjoy visiting Port Phillip Bay as I am sure you will not be disappointed.


Visitors Top 3 Favourite Port Phillip Bay Pages To Visit


Please note that some links on this page are to companies that I have an affiliation with. By that I mean that if you purchase a product through them I receive a very small commission. This way of earning income is termed Monetization and it is a way for me to keep my site out here for you to enjoy. I will only affiliate with companies that I feel offer value for money and excellent back up service. These are Companies that I personally have used to purchase products for myself, my family and my friends. To learn more please refer to my Disclaimer page
Come Check Out Family Getaways On Pinterest 
Click 'Follow on Pinterest'


Love Travelling?
Secure your Accommodation using the Search Box below


Stay right in the heart of Melbourne. Close to shopping, transport, Melbourne's attractions. 
Experience Melbourne's friendly coffee culture, the art precinct and of course the exciting live theatre shows.
Check Availability, Rates and Best Deals going.
Just use the Search box here, fill in your dates and see where's the best place for you to stay.
Use this to check the UV in your area, click on the down arrow for location closest to you

And Don't Forget To Be Sun Smart
You cannot feel or see UV (Ultraviolet radiation). We can see the sun's light and we can feel the sun's warmth (the infrared radiation). Our senses don't pick up on UV radiation and this is why it is so damaging.
Right across Australia this UV radiation varies, it being determined by the time of day, time of year, the weather including cloud cover, how close to the equator the position is and other considerable scientific factors.